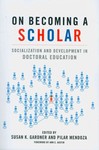 Title
On Becoming a Scholar: Socialization and Development in Doctoral Education
Description
Despite considerable research that has provided a better understanding of the challenges of doctoral education, it remains the case that only 57% of all doctoral students will complete their programs.

This groundbreaking volume sheds new light on determinants for doctoral student success and persistence by examining the socialization and developmental experiences of students through multiple lenses of individual, disciplinary, and institutional contexts.

This book comprehensively critiques existing models and views of doctoral student socialization, and offers a new model that incorporates concepts of identity development, adult learning, and epistemological development.

The contributors bring the issues vividly to life by creating five student case studies that, throughout the book, progressively illustrate key stages and typical events of the socialization process. These fictional narratives crystallize how particular policies and practices can assist or impede the formation of future scholars.

The book concludes by developing practical recommendations for doctoral students themselves, but most particularly for faculty, departments, universities, and external agencies concerned with facilitating doctoral student success.
Keywords
Doctor of philosophy degree, Professional socialization, Doctoral students, United States
Disciplines
Education | Higher Education
Recommended Citation
Gardner, Susan K. Editor and Mendoza, Pilar Editor, "On Becoming a Scholar: Socialization and Development in Doctoral Education" (2010). Faculty and Staff Monograph Publications. 56.
https://digitalcommons.library.umaine.edu/fac_monographs/56