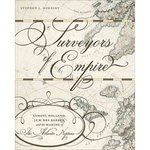 Title
Surveyors of Empire: Samuel Holland, J.W.F. Des Barres, and the Making of the Atlantic Neptune
Description
British imperial power was greatly bolstered by new techniques in surveying and map-making during the eighteenth century. Well before James Cook sailed for the Pacific in 1768, British army engineers working on the coastline from Quebec to Rhode Island had set new scientific standards for cartography that would assist the British in mapping future conquests. Surveyors of Empire explores the groundbreaking work of these engineers, which formed the basis of The Atlantic Neptune, a four-volume hydrographic atlas that stands as a monument of European Enlightenment science.

Using research from both sides of the Atlantic, Stephen Hornsby examines the development of British military cartography in North America during and after the Seven Years War, as well as advancements in military and scientific equipment used in surveying. At the same time, he follows the land speculation of two leading surveyors, Samuel Holland and J.F.W. Des Barres, and the publication history of The Atlantic Neptune.

Richly illustrated with images from The Atlantic Neptune and earlier maps, Surveyors of Empire is an insightful account of the relationship between science and imperialism, and the British shaping of the Atlantic world.
Publisher
McGill-Queen's University Press
Keywords
Atlantic Neptune, Maps, Nautical charts, Atlantic Coast (North America), Cartographers, Great Britain
Disciplines
Geography | Physical and Environmental Geography
Recommended Citation
Hornsby, Stephen John and Stege, Hope, "Surveyors of Empire: Samuel Holland, J.W.F. Des Barres, and the Making of the Atlantic Neptune" (2011). Faculty and Staff Monograph Publications. 41.
https://digitalcommons.library.umaine.edu/fac_monographs/41