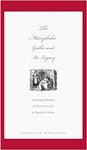 Title
Matrophobic Gothic and Its Legacy: Sacrificing Mothers in the Novel and in Popular Culture
Description
Although in recent years maternity has become a contested site of political discourse, the matrophobia that characterizes many mother-daughter bonds has hardly been theorized. This book defines matrophobia as fear of mothers, as fear of becoming a mother, and as fear of identification with and separation from the maternal body. Deborah D. Rogers argues that matrophobia is the central metaphor for women's relationships with each other within a patriarchal culture.

Analyzing different contexts in which matrophobia problematizes feminism, this book begins with matrophobic discourse in eighteenth-century England. Significantly, the self-sacrificing construction of motherhood emerges at the same time as the novel, a genre that develops as a locus for the radical displacement of matrophobia.

Coining the term «Matrophobic Gothic» to describe works in which inadequately mothered heroines reconcile with maternal figures that the narrative has repressed, Rogers focuses on this phenomenon in the works of Ann Radcliffe and Jane Austen. Her consideration of matrophobia extends to early modern male-authored texts, including Samuel Richardson's representation of maternity and Sir Walter Scott's exploration of gender roles and identity. These issues continue unabated in televised serial drama. All told, this book powerfully argues for the necessity of confronting the matrophobia at the heart of feminism.
Keywords
Mothers in literature, Motherhood in literature, Mothers and daughters in literature, Femininity in literature, Motherhood in popular culture, Femininity in popular culture, Women in popular culture
Disciplines
Literature in English, British Isles | Literature in English, North America
Recommended Citation
Rogers, Deborah D., "Matrophobic Gothic and Its Legacy: Sacrificing Mothers in the Novel and in Popular Culture" (2007). Faculty and Staff Monograph Publications. 291.
https://digitalcommons.library.umaine.edu/fac_monographs/291