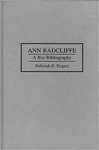 Title
Ann Radcliffe: A Bio-Bibliography
Description
Arguably the most popular novelist of her day and the mother of the female Gothic literary tradition, Ann Radcliffe (1764-1823) has received varying amounts of critical attention and is now being recognized for her important contribution to English literature. This volume recounts what little is known about her life and provides an extensive bibliographic overview of works by and about her. Included are annotated entries for editions and translations, reviews, critical studies of Radcliffe, and adaptations of her works.
Ann Radcliffe wrote some of the most electrifying and popular novels of her day. Not only is she one of the most important Mothers of the novel, she almost singlehandedly developed the Female Gothic to explore female experience. This form has achieved almost mythical status.
This volume is an indispensible guide to the life and work of this pioneering woman novelist. A biography provides new information on Radcliffe from a source that has been virtually ignored, the one substantial extant manuscript, her forty-two leaf commonplace book, which is in deteriorating condition. The remainder of the book is an extensive annotated bibliography of works by Radcliffe and critical studies of her writing. Included are entries for early and modern editions, early reviews, and bibliographic studies. Two chapters are devoted to 20th-century critical studies of Radcliffe, in response to the growing amount of material being written about her. Appendices record her artistic legacy as presented in adaptations, imitations, parodies, and abridgments; and the volume includes a list of works falsely attributed to her.
Publisher
Greenwood Press
Keywords
Ann Ward Radcliffe, Gothic revival (Literature), Women and literature
Disciplines
Literature in English, British Isles
Recommended Citation
Rogers, Deborah D., "Ann Radcliffe: A Bio-Bibliography" (1996). Faculty and Staff Monograph Publications. 290.
https://digitalcommons.library.umaine.edu/fac_monographs/290