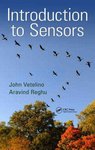 Title
Introduction to Sensors
Description
Introduction to Sensors examines the theoretical foundations and practical applications of electrochemical, piezoelectric, fiber optic, thermal, and magnetic sensors and their use in the modern era. Incorporating information from sensor-based industries to review current developments in the field, this book:

Presents a complete sensor system that includes the preparation phase, the sensing element and platform, and appropriate electronics resulting in a digital readout.

Discusses solid-state electronic sensors, such as the metal oxide semiconductor (MOS) capacitor, the micromachined capacitive polymer, and the Schottky diode sensor.
Uses the two-dimensional hexagonal lattice as an example to detail the basic theory associated with piezoelectricity.
Explores the fundamental relationship between stress, strain, electric field, and electric displacement
Keywords
Detectors, Electrochemical sensors, Piezoelectric sensors, Fiber optic sensors, Thermal sensors, Magnetic sensors
Disciplines
Controls and Control Theory | Electrical and Computer Engineering | Engineering
Recommended Citation
Vetelino, John and Reghu, Aravind, "Introduction to Sensors" (2011). Faculty and Staff Monograph Publications. 24.
https://digitalcommons.library.umaine.edu/fac_monographs/24