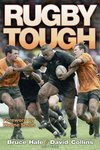 Description
Rugby is highly demanding from a physical standpoint. But anyone who has played or coached the sport knows that the mental side of the game separates the best players from the rest. Rugby Tough will give you the mental focus you need to give the game everything you've got.
Learn how to apply mental skills effectively in specific match situations and get inside advice from those who've played, coached, and studied the game at every competitive level. Through Rugby Tough, you'll learn new ways to toughen your mindset and eliminate costly mental errors that inhibit your best performance.
Rugby Tough starts with an emphasis on individual player development and the fundamental psychological skills you need to excel at the sport. In later chapters, the focus shifts to the importance of group dynamics and mental strategies in competitive play. From building team cohesiveness to defending and attacking mindsets, you'll discover all the tools you need to take your game to a whole new level.
For the definitive word on mental preparation, Rugby Tough draws on the experience of coaches and sport psychologists from England, Ireland, New Zealand, Scotland, Canada, Australia, and the United States. To be among the world's best, you need the mindset of a champion. To prepare for the ultimate challenge, pick up the ultimate resource.
Keywords
Rugby football, Psychological aspects, Training
Disciplines
Sports Studies
Recommended Citation
Hale, Bruce D. Editor and Collins, David J. Editor, "Rugby Tough" (2002). Faculty and Staff Monograph Publications. 230.
https://digitalcommons.library.umaine.edu/fac_monographs/230