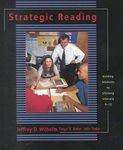 Title
Strategic Reading: Guiding Students to Lifelong Literacy, 6-12
Description
As students move on to more challenging texts in middle and high school, their reading skills don't grow automatically to meet those demands. They need help figuring out how to read, not just what to read. Strategic Reading provides the tools teachers need to help students of all abilities make this important transition to higher-level texts.
Rather than "student-centered" or "teacher-centered," Wilhelm and his coauthors rely on a "learning-centered" approach to reading. They offer a thorough examination of the issues surrounding teaching and learning, and of the specific demands particular texts make on readers. Then they provide dozens of innovative strategies for teaching students to comprehend, engage, and make use of these kinds of texts. By placing the emphasis on learning how to learn, students become active participants in their own education and part of a classroom community of learners.
For too many students, reading instruction falls by the wayside at the time when they need it most. As the focus on reading more sophisticated kinds of texts intensifies in our schools, students need more help than ever. Using Wilhelm and his coauthors' learning-centered approach, teachers can make reading processes visible and available to students. Armed with an understanding of reading strategies and the ability to apply them in any context, students become empowered readers not only in the English classroom, but in their lives as well.
Keywords
Reading (Middle school), Reading (Secondary)
Disciplines
Education | Reading and Language
Recommended Citation
Wilhelm, Jeffrey D.; Baker, Tanya N.; and Dube, Julie, "Strategic Reading: Guiding Students to Lifelong Literacy, 6-12" (2001). Faculty and Staff Monograph Publications. 223.
https://digitalcommons.library.umaine.edu/fac_monographs/223