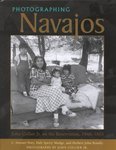 Title
Photographing Navajos : John Collier Jr. on the reservation, 1948-1953
Description
In the early 1950s the great anthropological photographer John Collier Jr. made nearly 1,000 photographs documenting Navajo life in Fruitland, New Mexico, near the Four Corners. Lost until recently in archives far from the Southwest, most of these photos have never before been published. The authors of this book have assembled a selection of Collier's Navajo photographs showing the changes in post-World War II reservation life.
This was the period when cash-crop agriculture and wage work began to supplant the traditional pastoral life centered on raising sheep and using the wool for weaving. Ironically, the photographer was the son of the Indian commissioner who instigated stock reduction on the Navajo Reservation in 1934. Nearly three-quarters of a century later, the senior Collier is still hated by Navajos, and it is a tribute to the younger Collier's personality as well as his skill that he was able to take some of the most intimate pictures ever made of the Navajo people. The Collier photos collected here show people working, cooking, weaving, eating, washing their hair, and engaging in other activities of daily life. The collection also includes handsome portraits, some formal, some casual.
The essays by Benally and Doty set Collier's work in the contexts of Navajo tradition and history as well as provide background on the Fruitland project and Collier's role in it. Dale Mudge's account of Navajo farming practices combines with Collier's photos to present an outstanding summary of traditional Dine agriculture.
Publisher
University of New Mexico Press
Keywords
Collier, John, 1913-, Navajo Indians, Pictorial works
Disciplines
History | Indigenous Studies
Recommended Citation
Doty, C. Stewart; Mudge, Dale Sperry; and Benally, Herbert John, "Photographing Navajos : John Collier Jr. on the reservation, 1948-1953" (2002). Faculty and Staff Monograph Publications. 178.
https://digitalcommons.library.umaine.edu/fac_monographs/178