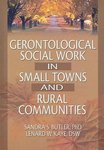 Title
Gerontological Social Work in Small Towns and Rural Communities
Description
Gerontological Social Work in Rural Towns and Communities provides a range of intervention and community skills aimed precisely at the needs of rural elders. This book fills a gap in the literature by focusing on the specific practice concerns for social workers assisting older adults in rural areas, including the aging experience, social worker skills, professional functions, working with special populations, and health and long-term care concerns. This valuable resource will benefit social workers, gerontologists, allied health professionals in rural areas, health and human services administrators and managers.

Gerontological Social Work in Rural Towns and Communities explores the challenges social workers need to overcome when working with the elder community in rural areas. This book's significance to social workers will only increase as more adults choose to live and grow old away from the cities. Experts in the field suggest strategies to overcome barriers in planning and providing services such as:
* a longer distance for the elderly to travel to use social service centers
* a narrower range of available services in the local area
* increased poverty levels for the elderly
* a stronger dependency by elderly on family rather than public assistance
This book is divided into five sections:
Rurality and Aging—introduces the concept of rurality and examines the demographics of aging from a rural perspective.
Practice Dimensions of Social Work with Rural Elders—includes clinical practice models, intervention and advocacy techniques, program planning, and marketing approaches.
Special Populations—gives attention to four special population groups: indigenous elders, African-American older adults, elderly Latinos, and disabled elders.
Special Issues Pertaining to Rural Elders—covers five essential issues for rural gerontological social workers: health promotion, older workers and retirement preparation, aging in place, specialized housing, and ethical practice.
Training and Policy Recommendations—future training and education recommendations for social workers are explored, as well as service capacity building, the aging network, and the future of long-term care.
While a variety of theoretical perspectives are explored in Gerontological Social Work in Rural Towns and Communities, the book's empowerment orientation and strengths-based approach will enhance your abilities to improve quality of life for elderly individuals in rural communities. Each chapter contains a comprehensive review of the literature on the subject it addresses, and several chapters include tables and graphs to further establish their revealing empirical findings. An appendix provides additional sources to turn to for more information.
Publisher
Haworth Social Work Practice Press
Keywords
Social work with older people, Rural elderly, Services for, Rural Social service, Gerontology, United States
Disciplines
Geriatrics | Social Work
Recommended Citation
Butler, Sandra S. and Kaye, Lenard W., "Gerontological Social Work in Small Towns and Rural Communities" (2003). Faculty and Staff Monograph Publications. 165.
https://digitalcommons.library.umaine.edu/fac_monographs/165