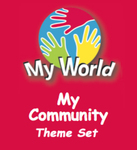 Description
A sub series from the My World Collection, a series of leveled emergent informational texts designed to enhance young children's knowledge of their world while developing an understanding of the features and characteristics of the informational text genre. Intended to support young children's growing curiosity about the world around them, the collection is divided into five 10-book themes, each providing factual information about a different aspect of the natural or social world.
The My World My Community Theme Set includes the following titles:
Animals in My Community, Buildings, Food in My Community, Fun in My Community, Getting Around My Community, Neighbors, Stores, Very Important People, What's a Community?, Where Do People Live?
Publisher
Hameray Publishing Group
Keywords
Stories without words, buildings, dwellings, neighbors, emergent texts, literacy, childhood development
Disciplines
Education | Pre-Elementary, Early Childhood, Kindergarten Teacher Education
Recommended Citation
Bennett-Armistead, Susan, "My community" (2013). Faculty and Staff Monograph Publications. 16.
https://digitalcommons.library.umaine.edu/fac_monographs/16