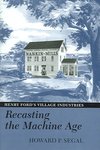 Title
Recasting the Machine Age: Henry Ford's Village Industries
Description
Recasting the Machine Age recounts the history of Henry Ford s efforts to shift the production of Ford cars and trucks from the large-scale factories he had pioneered in the Detroit area to nineteen decentralized, small-scale plants within sixty miles of Ford headquarters in Dearborn. The visionary who had become famous in the early twentieth century for his huge and technologically advanced Highland Park and River Rouge complexes gradually changed his focus beginning in the teens and continuing until his death in 1947.
Ford may well have been motivated to spend great sums on the village industries in part to prevent the unionization of his company. But these industrial experiments represented much more than union busting. They were significant examples of profound social, cultural, and ideological shifts in America between the World Wars as reflected in the thought and practice of one notable industrialist.
Howard P. Segal recounts the development of the plants, their fate after Ford s death, their recent revival as part of Michigan s renewed appreciation of its industrial heritage, and their connections to contemporary efforts to decentralize high-tech working and living arrangements.
Publisher
University of Massachusetts Press
Keywords
Henry Ford, Ford Motor Company, Automobile History, Automotive industry, Industrial location, Labor unions, Industrialists
Disciplines
History | History of Science, Technology, and Medicine | Labor History | United States History
Recommended Citation
Segal, Howard P., "Recasting the Machine Age: Henry Ford's Village Industries" (2005). Faculty and Staff Monograph Publications. 137.
https://digitalcommons.library.umaine.edu/fac_monographs/137