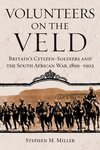 Title
Volunteers on the Veld: Britain's Citizen-soldiers and the South African War, 1899-1902
Description
When the Second Boer War erupted in South Africa in 1899, Great Britain was confident that victory would come quickly and decisively. Instead, the war lasted for three grueling years. To achieve final victory, the British government was forced to depend not only on its Regular Army but also on a large volunteer force. This book spotlights Britain's "citizen army" to show who these volunteers were, why they enlisted, how they were trained—and how they quickly became disillusioned when they found themselves committed not to the supposed glories of conventional battle but instead to a prolonged guerrilla war.
In Volunteers on the Veld, Stephen M. Miller focuses on the connection between Britain's auxiliary forces—volunteers, militia, and yeomanry—and its imperial mission during the late Victorian era, looking especially at why the British war effort came to depend on their performance. Miller examines motivations for enlistment, the use of citizen-soldiers in guerrilla warfare, and the effects of combat on the soldiers themselves, weaving together the sense of national emergency, the influence of popular culture, and images of manhood that propelled so many Britons into the ranks of volunteers.
By revisiting one of the most significant guerrilla wars of the modern age—and one of the earliest examples of the use of modern media to promote mobilization for a foreign war—Volunteers on the Veld lends fresh insight into British imperial warfare while suggesting unmistakable parallels between these citizen-soldiers and today's American volunteers in Iraq.
Publisher
University of Oklahoma Press
Keywords
Voluntary military service, Soldiers (Great Britain), Army Recruitment, South African War, 1899-1902
Disciplines
African History | European History | History | Military History
Recommended Citation
Miller, Stephen M., "Volunteers on the Veld: Britain's Citizen-soldiers and the South African War, 1899-1902" (2007). Faculty and Staff Monograph Publications. 129.
https://digitalcommons.library.umaine.edu/fac_monographs/129