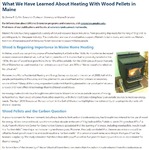 Title
What We Have Learned About Burning Wood Pellets in Maine
Reviewer
Robert Rice et al.
Keywords
burning wood pellets
Disciplines
Wood Science and Pulp, Paper Technology
Abstract/Summary
Maine's forests have long supported a variety of natural-resource-based industries, from providing ship masts for the king of England, to providing pulp for the paper industry. The production and use of wood pellets supports Maine's forest industry and continues Maine's tradition of managing and utilizing our forest resources to support Maine people.
Publisher
University of Maine Cooperative Extension
Publication Title
Cooperative Extension - Agriculture
Recommended Citation
Coffin, Donna, "What We Have Learned About Burning Wood Pellets in Maine" (2013). Cooperative Extension - Agriculture. 8.
https://digitalcommons.library.umaine.edu/extension_ag/8