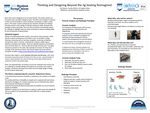 Faculty Mentor
Dr. Stephen Gilson
Program
Interdisciplinary Disability Studies
Description
Most chairs aren't designed to serve human bodies. Enter, the impaired body, not simply as a source for treatment and revision but as a challenge to standard design. This poster presents an innovative chair redesign project. The effort was intended to enhance comfort and functionality as well as aesthetics of seating in public spaces.
Publication Date
4-14-2023
Publisher
University of Maine Center for Community Inclusion and Disability Studies
Keywords
universal design, disability, chairs, seating, redesign, disability studies
Disciplines
Arts and Humanities | Social and Behavioral Sciences
Creative Commons License


This work is licensed under a Creative Commons Attribution-No Derivative Works 4.0 International License.
Recommended Citation
Watson, L. (2023, April). Thinking and designing beyond the jig-seating reimagined. (PDF). Presented at the 2023 University of Maine Student Symposium: Research and Creative Activity 2023. Orono, ME.
Rights Statement