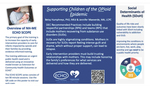 Creator
Elizabeth Humphreys and Jennifer Maeverde
Event
Division for Early Childhood 37th Annual International Conference on Young Children with Disabilities and Their Families: A Virtual Event
Keywords
supporting children opioid epidemic
Summary
The primary goal of the ECHO SCOPE (Supporting Children of the Opioid Epidemic) training is to increase the capacity of early intervention providers to care for infants impacted by opioids and their families by providing evidence-informed training.
Preferred Citation
Humphreys, E., & Maeverde, J. (2021, September 22). Overview of NH-ME ECHO SCOPE: Supporting children of the opioid epidemic. Peer-reviewed poster presentation at the Division for Early Childhood 37thAnnual International Conference on Young Children with Disabilities and Their Families: A Virtual Event.
Creative Commons License


This work is licensed under a Creative Commons Attribution-No Derivative Works 3.0 License.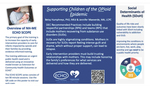 Rights Statement