Preview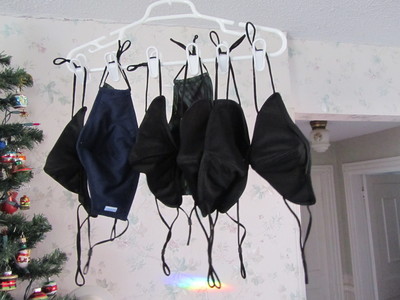 Description
Photograph of a "mask drying rig". Description from Kimerly Sawtelle:
"The original hanger is heavy plastic and had two clips to use for hanging slacks by the cuffs or to secure slick or silky fabrics that tend to want to slide off the hanger. I just added extra clips. I hang the ear loops over the clips before placing the entire rig on a hook that's located over a hot air register. Ta-dah! An easy way to keep masks together without being scattered all over the house. I have also learned to use a lint roller on the inner surface of the mask. From experience, I discovered that inhaling lint in the store, then coughing and choking does not bring help. Rather, it causes people to scatter while shooting suspicious looks in one's direction. Once clean and dry, the masks get tucked into a couple nifty muslin bags that came with some of the masks. Those storage sacks are kept on the coat rack so clean masks are always close to hand before leaving the house. I purchased or received all my face masks as gifts. Though I spent money on materials to make masks myself, for me, sewing is less appealing than doing taxes. Or push ups. As a result, I have an entire sack filled with fabric squares, sewing notions, elastic for ear loops, and shiny, pretty things like sequins for ornamentation, that is gathering dust in my home office because I would literally rather do ANYTHING else than dig out the sewing machine to stitch two small bits of fabric together. The masks in the image are all newly acquired in December as the handmade masks that were purchased or given to me in March and April have started coming apart at the seams due to the fact that they were machine washed and dried multiple times just because it was easier. Machine drying definitely had a negative impact on the materials. Hence, I devised this new system for drying masks. The first collection of masks I had were purchased from the furniture store in the Bangor Mall in late March or early April 2020. The store owners advertised on television that they had face masks available to purchase for $2 to $3 each but if someone could not afford a mask, they would be given masks for free." By the time I made my way to the store, they had a very large display of masks in bins and baskets set up on tables and shelving. While there were only a couple of basic styles--the accordion-fold modeled after surgical masks and what is now being called the "parrot" mask for the way it curves out, away from the face, preventing the fabric from rubbing against the mouth or from being sucked in by mouth-breathers. The range of fabric patterns was large and I pretty much went out of my mind buying far more masks than necessary because I had no idea what would and would not work well. In the end, out of that haul of masks I culled down to three that worked best for me, all of which were variations of the "parrot" style mask. While my first masks were made of colorful print and floral cotton fabric, I've learned that I actually prefer a straight up, solid black mask because--vanity speaking here--the plain black places attention on my eyes. In the months since the initial March lockdown, I've watched how mask-making has gone from a cottage industry established by seamstresses, quilters, and hobbyists who sewed and gave masks away or sold them at cost in order to protect people and prevent the spread of COVID-19, to becoming a niche of the fashion accessory industry. While the number of crafters selling hand-made face masks on Etsy expanded as exponentially as Coronavirus infections, major retailers including high-end stores such as Neiman Marcus has added "face masks" to its website menu and offers face masks by designers such as Dolce & Gabbana, Chanel, and Stefano Ricci. The price of face masks has followed a trajectory from free to between $2 and $5 on the local level as well as via Etsy in March and April 2020, to luxury brands charging between $90 and $110 for a single mask in December 2020. New fabric "technology" has been advertised that includes everything from high particulate filtering to the alleged use of "the antimicrobial properties of silver." In less than 10 months, amid anti-mask protests and the White House and conservative media groups downplaying the importance and impact of COVID-19, the manufacture and sale of face masks has become a multi-million dollar industry that I suspect probably won't fully go away in the future. On May 14, 2020, Fortune magazine ran a story by Phil Wahba discussing "How selling $133 million worth of face masks in April helps Etsy long term." I don't find it surprising that subsequently, mask-making went from a profitable, almost exclusive cottage industry in the U.S. where makers focused on providing affordable personal protective gear to an international industry that bifurcates into companies focused on providing comfort and protection at an accessible cost of $5 to $15 per mask, to companies intent on making personal protective wear a statement of wealth and fashion where the cost of a single, couture mask can run into the hundreds of dollars. Even Vogue, the fashion industry standard, ran an online article December 23, 2020 featuring 100 of "the most stylish masks to buy now. So, once again from necessity a new commercial product evolves but will face masks that help prevent the spread of colds and flu as well as COVID-19, have the staying power of penicillin, freeze-dried coffee, and nylon pantyhose born out of World War II? It remains to be seen."
Rights and Access Note
This Item is protected by copyright and/or related rights. You are free to use this Item in any way that is permitted by the copyright and related rights legislation that applies to your use. In addition, no permission is required from the rights-holder(s) for educational uses. For other uses, you need to obtain permission from the rights-holder(s).
Keywords
COVID-19, face coverings, health and safety
Rights Statement