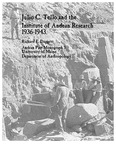 Description
In this monograph, Richard E. Daggett continues his discussion of the influence of politics upon the work of Peru's first professional archaeologist, Julio C. Tello. He began his analysis of this topic in his previous Andean Past monograph entitled Julio C. Tello, Politics, and Peruvian Archaeology: 1930–1936. The focus of this second work is an in-depth discussion of the nature and extent of Tello's connection with the Institute of Andean Research, from its creation in 1936. In addition to numerous articles published in the Peruvian press, Daggett makes extensive use of correspondence housed in archives both in Peru and in the United States.
Publication Date
8-21-2021
Rights and Access Note
The Department of Anthropology of the University of Maine, Orono is the publishing institution for Andean Past Monographs. Copyright for Andean Past Monographs is held by DigitalCommons@UMaine subject to expansive personal use exceptions. Andean Past Monographs take the "green route" to open access.
Publisher
University of Maine
Keywords
Julio C. Tello, Alfred Kroeber, Samuel Lothrop, Wendell Bennett, George Vaillant, Luis E. Valcárcel, Nelson Rockefeller, Institute of Andean Research, Harvard Peabody Museum, mummies, Chavín, Batán Grande, Cerro Sechín, Paracas
Disciplines
Archaeological Anthropology
Recommended Citation
Daggett, Richard E., "Julio C. Tello and the Institute of Andean Research: 1936-1943" (2021). Andean Past Special Publications. 12.
https://digitalcommons.library.umaine.edu/andean_past_special/12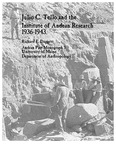 Included in