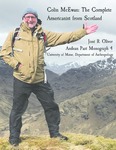 Description
This monograph is a biography of Colin McEwan (1951–2020). It reflects on his substantial contributions to the archaeology and anthropology of Latin America. It shows how he came to be the consummate scholar he was and how his life experiences and education shaped his persona and ultimately forged The Complete Americanist from Scotland that he became. His hunger for knowledge and understanding of the Americas, past and present, led McEwan to explore and conduct research in diverse Latin American localities, from the frigid landscape of Tierra del Fuego, to the humid tropical rainforests of Colombia, from the islands on the Pacific coast of Ecuador, to the mountains of the Peruvian Andes, and beyond in Central America, Mesoamerica, and the Caribbean. As curator and head of the Americas section in the Department of Africa, Oceania, and the Americas of the British Museum (1993–2012), he skillfully introduced a broad international public to the richness and diversity of ancient Latin American civilizations through his spectacular and well-researched exhibitions As director of Pre-Columbian Studies at Dumbarton Oaks (2012–2019), he developed a research project entitled Art from Central America and Colombia (2014–2017), consisting of intense international workshops to contextualize, problematize, and shed new light on the Robert W. Bliss collections. This begat (in 2018) another ambitious project titled Waves of Influence–Revisiting Costal Connections between Northwest South America and Mesoamerica. McEwan was driven by a deep need to share his knowledge of Pre-Columbian America with everyone, from indigenous groups and the general public, to research fellows, students, and academic specialists. His many publications have left their mark and are enumerated in the bibliography incorporated into this monograph. This biography captures not just Colin McEwan as the central subject, but also a generation of diverse actors, encapsulating an era in the history of anthropology and archaeology.
Publication Date
5-27-2021
Rights and Access Note
The Department of Anthropology of the University of Maine is the publishing institution for Andean Past Monographs. Copyright for Andean Past Monographs is held by DigitalCommons@UMaine subject to expansive personal use exceptions. Andean Past Monographs take the green route to open access.
Publisher
Department of Anthropology, University of Maine
Keywords
Colin McEwan; University of Illinois; British Museum; Dumbarton Oaks; Agua Blanca, Ecuador; Inca; Aztec; ushnu; turquois; Pre-Colombian metalwork; Colombian archaeology; Central American archaeology, Caribbean archaeology; Myledon Cave; Patagonia
Disciplines
Archaeological Anthropology
Recommended Citation
Oliver, Jose R., "Colin McEwan: The Complete Americanist from Scotland" (2021). Andean Past Special Publications. 11.
https://digitalcommons.library.umaine.edu/andean_past_special/11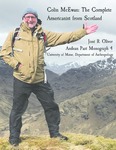 Included in
Rights Statement