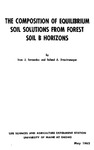 Description
The objective of the present study was to evaluate the composition of B horizon equilibrium soil solutions from selected Maine forest soils. The B horizon was chosen for evaluation because it (1) best expressed the weathering processes active in the soil, (2) occupied the greatest volume of the solum, (3) had the most complex chemistry of the major horizons, and (4) provided the major corridor in forested ecosystems for subsurface flow and chemical alteration of ground waters.
Publication Date
5-1-1982
Publisher
Life Sciences and Agriculture Experiment Station
Keywords
soil chemistry, forest soils
Recommended Citation
Fernandez, I.J., and R.A. Struchtemeyer. 1982. The composition of soil solutions from forest soil B horizons. Life Sciences and Agriculture Experiment Station Technical Bulletin 105.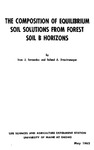 Included in