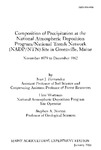 Description
This report presents results of the analyses of samples collected at the Greenville, Maine, NADP station. The Greenville NADP/NTN station is in Piscataquis County at longitude 69°39'52" and latitude 4S°29'23" at approximately 322 meters elevation.
Publication Date
1-1-1986
Publisher
Maine Agricultural Experiment Station
Keywords
acid precipitation, acid rain
Disciplines
Environmental Monitoring
Recommended Citation
Fernandez, I.J., L. Wortman, and S.A. Norton. 1986. Composition of precipitation at the National Atmospheric Deposition Program/National Trends Network (NADP/NTN) site in Greenville, Maine. Maine Agricultural Experiment Station Technical Bulletin 118.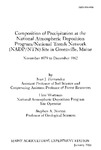 Included in