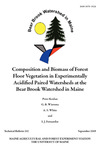 Description
The percentage cover (abundance), frequency of occurrence, biomass, species richness, and species diversity of understory herbs was measured on a paired watershed ecosystem in eastern Maine, USA. This paired watershed site (Bear Brook Watershed in Maine, BBWM) has had the West Bear Brook Watershed treated bi-monthly with granular ammonium sulfate at a rate of 28.8 kg S ha-1 yr-1 and 25.2 kg N ha-1 yr-1 since 1989. East Bear Brook Watershed serves as the reference site. More than 100 plots were randomly located across the two watersheds. The data suggest that there is generally a lower frequency of occurrence of understory plants on the treated watershed. In addition there was a significant difference in species richness with the treated watershed (West Bear) being lower than the reference watershed (East Bear). Biomass measures generally followed this same trend although there were not significant differences detected. These differences reflect treatment effects in light of biogeochemical changes shown to be occurring in other studies due to treatments.
Rights and Access Note
Rights assessment remains the responsibility of the researcher. No known restrictions on publication.
Publication Date
9-1-2009
Publisher
Maine Agricultural and Forest Experiment Station
Keywords
forest ecology, biodiversity measurement, biomass estimates, ammonium sulfate
Disciplines
Atmospheric Sciences | Biogeochemistry | Environmental Monitoring | Forest Biology | Fresh Water Studies | Soil Science
Recommended Citation
Kenlan, P., G.B. Wiersma, A.S. White, and I.J. Fernandez. 2009. Composition and biomass of forest florr vegetation in experimentally acidified paired watersheds at the Bear Brook Watershed in Maine. Maine Agricultural and Forest Experiment Station Technical Bulletin 202.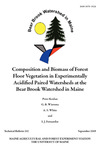 Rights Statement