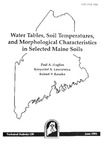 Description
Water table and soil temperature data were collected from 34 soil map units representing 17 different soil series in Maine. Soil morphology was also described at each site. Water table height, soil temperature, and morphological data are presented for each map unit studied. Relationships between water table heights and duration, and the morphological characteristics of the soils are discussed.
Publication Date
6-1-1993
Publisher
Maine Agricultural Experiment Station
Keywords
soils, water tables
Recommended Citation
Hughes, P.A., K.A. Lesniewicz, and R.B. Rourke. 1993. Water tables, soil temperatures and morphological characteristics in selected Maine Soils. Maine Agricultural Experiment Station Technical Bulletin 150.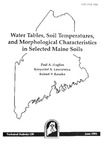 Included in