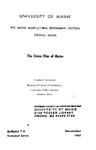 Description
This publication presents a listing of crane fly species showing their geographical and seasonal distribution, along with a short historical statement covering the chronological development of our knowledge of the subject, a section on the present location of important collections, a tabular listing of the chief collectors, and a short list of references.
Publication Date
11-1-1962
Publisher
Maine Agricultural Experiment Station
Recommended Citation
Alexander, C.P. 1962. The crane flies of Maine. Maine Agricultural Experiment Station Technical Bulletin 4.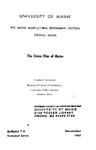 Included in