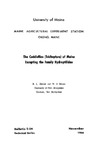 Description
A survey of the Trichoptera taken from light trap collections made during July and August, 1959, form the basis of the present paper. A checklist of the family Hydroptilidae known from Maine has been published. The collections were made for the most part in the Boreal Region of Maine.
Publication Date
11-1-1966
Publisher
Maine Agricultural Experiment Station
Keywords
caddisflies, Trichoptera
Recommended Citation
Blickle, R.L., and W.J. Morse. 1966. The caddisflies (Trichoptera) of Maine excepting the family Hydroptilidae. Maine Agricultural Experiment Station Technical Bulletin 24.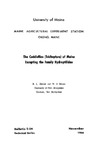 Included in