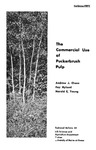 Description
This study investigates the potential of several local puckerbrush or weed trees and shrubs as sources of fiber for papermaking. Four different pulping processes were used (sulfate, magnesium bisulfite, neutral sulfite semichemical, and cold caustic) with six puckerbrush species (alder, gray birch, red maple, pin cherry, aspen, and willow). Mixtures of puckerbrush species, and commercial chip-puckerbrush species mixtures were pulped by the sulfate process with the objective of producing a pulp that would be suitable for fine-grade papers. The results produced a good grade of bleachable pulp with adequate physical characteristics for most fine paper grades. The other three pulping processes were used to produce higher yield pulps suitable for coarse grades of paper and paperboard. The magnesium bisulfite process produced a pulp in the 50 percent yield category but did not adequately pulp the bark. The neutral sulfite semichemical process gave a relatively high yield of a pulp that compared favorably to commercial pulps used in the manufacture of corrugating board. The cold caustic pulping process resulted in high yields of a pulp that had many of the characteristics of pulp from commercial hardwood chips.
Rights and Access Note
Rights assessment remains the responsibility of the researcher. No known restrictions on publication.
Publication Date
12-1-1973
Publisher
Life Sciences and Agriculture Experiment Station
Keywords
puckerbrush, wood pulp
Disciplines
Forest Management
Recommended Citation
Chase, A.J., F. Hyland, and H.E. Young. 1973. The commercial use of puckerbrush pulp. Life Sciences and Agriculture Experiment Station Technical Bulletin 65.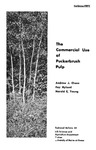 Included in
Rights Statement