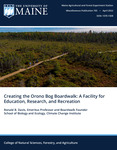 Description
A memoir by Dr. Ronald Davis detailing the creation of the Orono Bog Boardwalk. The Orono Bog Boardwalk is a premier destination in the Bangor/Orono area for persons wishing to experience the beauty and fascinating plants and animals of a Maine bog. The 1-mile boardwalk loop trail begins at the forested wetland edge in the Bangor City Forest, and after 800 feet crosses the Orono town line into the portion of the Orono Bog owned by the University of Maine. Along the way the boardwalk passes through a wide range of changing vegetation and environments on its way to the open, peat moss carpeted center of the Orono Bog.
Document Type
Miscellaneous Publication
Publication Date
Spring 4-4-2022
Publisher
Maine Agricultural and Forest Experiment Station
Keywords
Orono, Bog, Boardwalk, Orono Bog Boardwalk, Ecosystem Services, ecosystem, plants, wetland, Maine, ecology, peatlands, northern peat moss and black spruce bog, peat moss, black spruce, ecotourism, tourist.
Disciplines
Agriculture | Botany | Environmental Health and Protection | Environmental Monitoring | Forest Management | Historic Preservation and Conservation | Natural Resources and Conservation | Plant Biology | Terrestrial and Aquatic Ecology
Recommended Citation
Davis, Ronald B.. 2022. MP765: Creating the Orono Bog Boardwalk: A Facility for Education, Research, and Recreation. Maine Agricultural and Forest Experiment Station Miscellaneous Publications .
https://digitalcommons.library.umaine.edu/aes_miscpubs/26