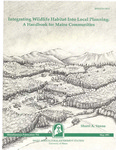 Description
This handbook is designed to be a source of information for Maine towns interested in conserving wildlife habitats through their comprehensive plans and land-use ordinances. It was written in response to the growing need to conserve local habitats for wildlife in Maine. New land-use and planning legislation resulting from increased development pressure requires towns to plan for wildlife habitat. The process of integrating habitat conservation into local land-use planning described in this handbook combines an ecosystem approach with protection of species of special interest (i.e., rare, endangered, game, and nongame species).
Recreational, economic, ecological, and other values of wildlife are important reasons for conserving local habitats. Legal mandates for protecting wildlife—especially the Federal Endangered Species and Clean Water Acts and State of Maine Endangered Species and Natural Resources Protection Acts, Shoreland Zoning Ordinance, and Subdivision and Site Location of Development laws—provide the basis for conserving habitats locally and influence planning and implementation of habitat conservation. Multiple benefits derived from maintaining wildlife habitats, such as protecting soil and water quality, farm and forest lands, and recreational and educational opportunities, provide additional rationales for conserving wildlife habitats. The concepts of biological diversity and wildlife habitats are discussed to provide towns with a basis for understanding habitat conservation.
Rights and Access Note
Rights assessment remains the responsibility of the researcher. No known restrictions on publication.
Publisher
Maine Agricultural and Forest Experiment Station
City
Orono, Maine 04469, USA
Keywords
habitat, land use planning
Disciplines
Environmental Policy | Terrestrial and Aquatic Ecology
Recommended Citation
Venno, S.A. 1991. Integrating wildlife habitat in local planning: A handbook for Maine communities. Maine Agricultural and Forest Experiment Station Miscellaneous Publication 712.
Rights Statement