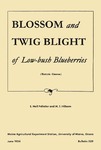 Description
This bulletin presents the results of research on three aspects of the disease blossom and twig blight, (1) seasonal development, (2) the effect of environmental factors, and (3) chemical control. The work was supported financially by Maine Blueberry Tax funds.
Publisher
Maine Agricultural Experiment Station
Keywords
Blueberry diseases, Botrytis cinerea, Maine, lowbush blueberries
Disciplines
Plant Pathology
Recommended Citation
Pelletier, E.N., and M. T. Hilborn. 1954. Blossom and twig blight of low-bush blueberries (Botrytis cinerea). Maine Agricultural Experiment Station Bulletin 529.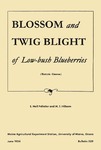 Included in