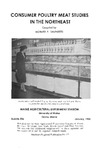 Description
In 1953, the subcommittee of the Northeast Regional Poultry Marketing Committee, considering the project "Consumer Preferences for, Consumer Purchases of, and the Market Demand for Poultry Products," decided to bring together in summary form the work completed and under way by research workers in the Northeast. The project was designed to address revolutionary changes in the poultry industry that had made it in increasingly important that the production and distribution of poultry meat and eggs be oriented to consumer preferences and market demand for these products.
Publisher
Maine Agricultural Experiment Station
Keywords
poultry, consumer preferences, Northeast
Disciplines
Agricultural Economics | Poultry or Avian Science
Recommended Citation
Saunders, R.F. (comp.). 1955. Consumer poultry meat studies in the Northeast. Maine Agricultural Experiment Station Bulletin 536.