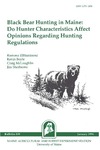 Description
In recent years, the Maine Department of Inland Fisheries and Wildlife (IF&W) has implemented several changes in hunting regulations to counter a steady increase in the harvest of Maine's black bears (Ursus americanus). These include several changes made during the early 1980s and a number of major changes that started with the 1990 hunt. The research reported in this paper considers hunters' opinions regarding current and proposed hunting regulations for black bears in Maine.
Publisher
Maine Agricultural and Forest Experiment Station
Keywords
game laws, bear hunting, black bear
Disciplines
Agricultural and Resource Economics
Recommended Citation
ElHamzaouis, R., K. Boyle, C. McLaughlin, and J. Sherburne. 1994. Black bear hunting in Maine: Do hunter characteristics affect opinions regarding hunting regulations.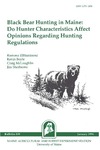 Included in