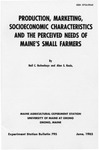 Description
For nearly 30 years small scale farming was considered inefficient and undesirable. Small farmers found it increasingly difficult to compete with large operators in the market place because of insufficient produce quantity, the seasonal nature of their production, and lack of marketing information . During this period, large commercial farmers moved to higher levels of management sophistication and use of modern production technology. The market system also became more sophisticated because of mass marketing of agricultural products, monocultural production techniques,and highly advanced assembly and distribution systems.
In the late 1960's and early 1970's, it became evident that consumers' food buying behavior across the nation was changing. Food buying clubs and consumer cooperatives began to emerge as food prices increased. Also, many consumer food preferences change~with quality factors such as freshness, taste, cultural methods, packaging techniques, and nutrition becoming more important to people . These changes provided opportunity for small scale farming.
A profile of Maine's small scale farms and farmers was created so that their needs can be better served. This profile will hopefully provide a base for more effective research, education, and service. All variables examined were categorized by gross sales category, to greater assist in developing a complete profile of the small farm in Maine.
Publisher
Maine Agricultural and Forest Experiment Station
Keywords
Inventory of small farmers
Recommended Citation
Buitenhuys, Neil C. and Kezis, Alan S.. 1983. B795: Production, Marketing, Socieconomic Characteristics and the Perceived Needs of Maine's Small Farmers. Maine Agricultural and Forest Experiment Station Bulletins 795.
https://digitalcommons.library.umaine.edu/aes_bulletin/109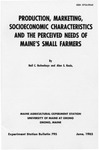 Included in