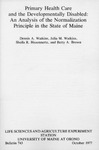 Description
At the time of publication, there existed an estimated group of 10 million American people defined as developmentally disabled. Stimulated in part by the often observed dehumanizing environment of institutional arrangement for the mentally disabled, the search for more humane treatment and management alternative has pointed in the direction of what has been termed ' normalization."
In 1969, the Danish Mental Retardation Service defined normalization as '' letting the mentally retarded obtain an existence as close to normal as possible."
The focus of this study is on barriers to the normalization principle in the provision of primary health care to the developmentally disabled in the State of Maine. Possible barriers include attitudes toward the developmentally disabled, accessibility and quality of community based services, and lack of viable coordination mechanisms. Since 1971, the Maine Department of Mental Health and Corrections has made a concerted effort to encourage services based upon the principle of normalization. As pressures for normalization intensify, it seems warranted that those community-based structures which carry out the concept be examined as to their receptivity and the feasibility of further efforts in this direction. Although the principle of normalization has demonstrated its usefulness and potential, it is not without its limitations (Mesibov 1976). This study made no attempt to examine these limitations of the principle itself.
Publisher
Maine Agricultural and Forest Experiment Station
Keywords
developmentally disabled, community based services
Disciplines
Psychiatric and Mental Health
Recommended Citation
Watkins, Dennis A.; Watkins, Julia M.; Bissonnette, Sheila R.; and Brown, Betty A.. 1977. B743: Primary Health Care and the Developmentally Disabled: An Analysis of the Normalization Principle in the State of Maine. Maine Agricultural and Forest Experiment Station Bulletins 743.
https://digitalcommons.library.umaine.edu/aes_bulletin/108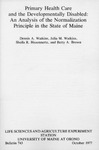 Included in