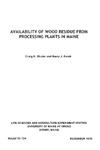 Description
This bulletin presents the results of a survey conducted in Maine to gather data regarding location, availability, and types of primary mill and secondary plant residues currently being generated.
Publisher
Life Sciences and Agricultural Experiment Station
Keywords
wood pulp industry, waste disposal, Maine, wood waste
Disciplines
Wood Science and Pulp, Paper Technology
Recommended Citation
Shuler, C.E., and B.J. Kotek. 1976. Availability of wood residue from processing plants in Maine. Life Sciences and Agriculture Experiment Station Bulletin 734.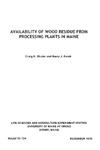 Included in